Bitcoin Cash slashed its position with Litecoin at the onset of the week, just when Litecoin went as high as $94 and escalated above with regard to its market cap against the former. Bitcoin Cash has been amongst the top 5 in the global crypto market until it slipped its position briefly but reclaimed in no time as the major altcoins lost a minimum of as much as 20% in 2 days. Although the BCH coin was breaching a 9-month high at $373, it took no time to collapse below $300 at $275.
Bitcoin Cash Price Analysis: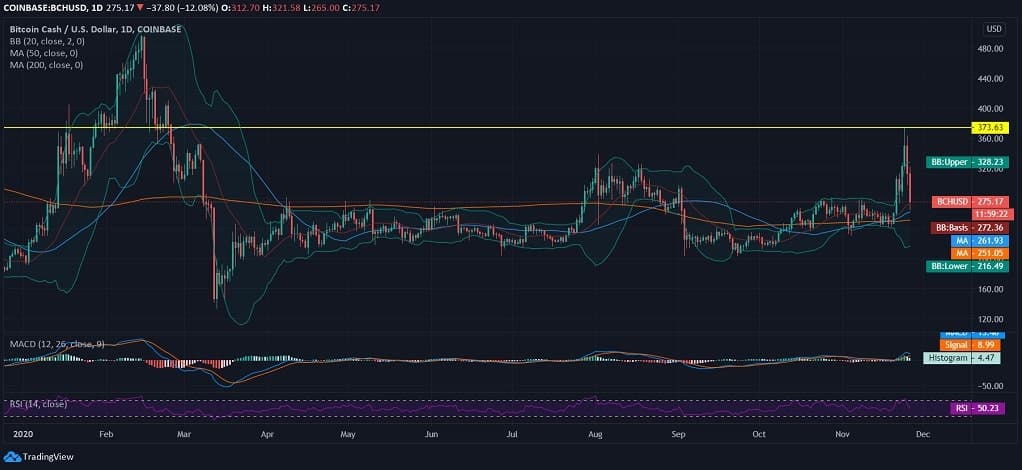 Bitcoin Cash, at the time of penning down this analysis, was seen trading at $275 after a bearish candlewick pullback and is a pinch close to testing 50-day MA support at $261 followed by 200-day daily MA support at $251. With the gain in price, the price trend of BCH/USD is seen breaching the upper 20-day Bollinger Band on the daily chart after the coin's price reclaimed a 9-month high. As the Bands widen, we project expanding volatility in the near-term.
Moreover, the MACD chart that was showing a clear bullish crossover until the recent fall is now moving towards having a bearish crossover as the MACD line approaches the signal line for a negative divergence after the price slash.