Due to the heavy volume of transactions, Ethereum faced scalability issues; then, Polygon was created to solve this problem. It is a layer two protocol that works on Ethereum Mainnet.
Polygon launches a new solution of Web 3.0 that offers users to pass identity verification without personal information. This digital privacy-focused platform is based on Zero-Knowledge proof. Indeed, it aims to simplify the authentication process, and it is expected to launch in the third quarter of this year.
It is a decentralized app layer of Ethereum Mainnet that comes with a new ZK-proof solution (Zero-Knowledge proof). It will help the user to protect their privacy on blockchain platforms.
It is expected to be used by corporate houses for identity and trust management purposes, such as digital wallets and e-KYC verifications. Now users can verify their identity on this blockchain-based application without providing sensitive individual details. As a result, it could save time and satisfy all KYC mandates provided by governments.
This Web 3 would be a blockchain-based OpenID verification platform that will take the place of today's Web 2 log-in/sign-up platforms used by Microsoft and Google accounts.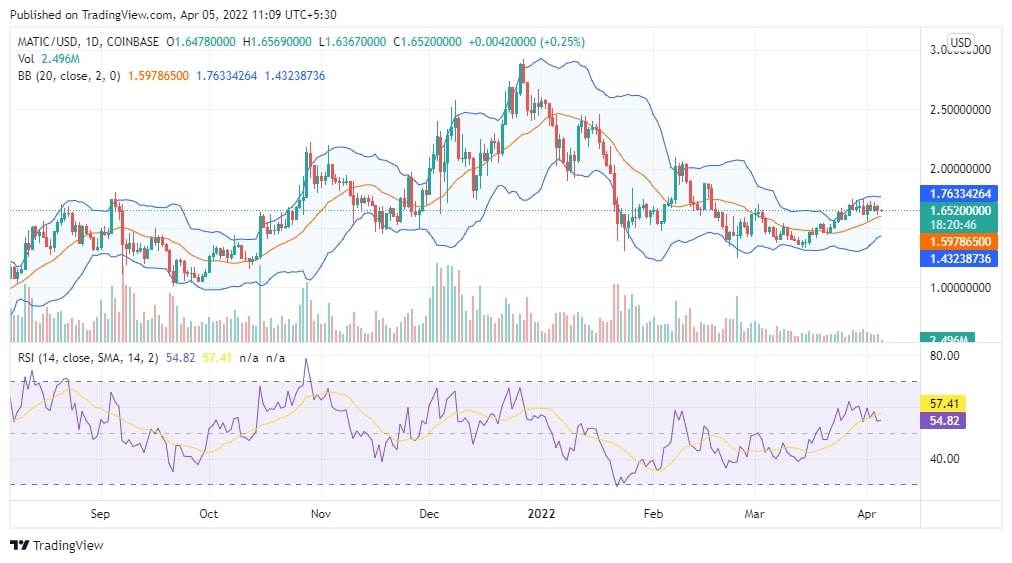 While writing, the price of MATIC is trading around $1.65. After consolidating for a long time, it is now turning bullish. However, it is now consolidating between the range of $1.60 and $1.70. It means $1.70 may work as a resistance level. However, the coin price might cross this level, and it will surge to the level of $1.86.
On the daily chart, RSI is around 55. Interestingly, candlesticks are forming just above the baseline of the Bollinger Band. If it comes down, the price may fall to the level of $1.46. It will be a good time to buy MATIC as per the Polygon price prediction.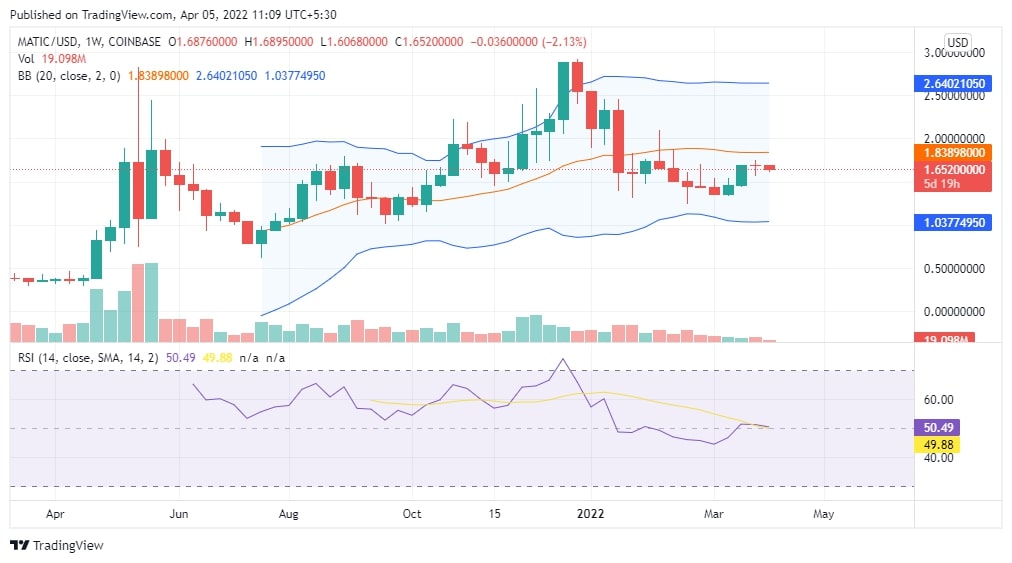 The long-term weekly chart is also bullish, making higher highs and higher lows. We think it is a great time to invest for the long term because it will cross the previous all-time high and will go a long way in the future.
Indeed $1.73 level will work as a strong resistance level. You can start accumulating this coin, but you should take a position for the long term when it crosses that level. Otherwise, you can book profit in the short term with a strict stop loss of around $1.55 and take the benefits of this consolidation. Please do not invest a large amount because it is in a higher range, and in the short term, it may retrace back to a new support level.