Introduction
InvestXE is an online trading house that provides trading and investing services to individuals and businesses with a learning curve. With InvestXE, you can select from five different platforms – Android trading app, iPhone trading app, Tablet trading app, MarketPro 1.0, and Web Trader. InvestXE is an appropriate online trading house for traders of every skill and experience level, whether they want to buy soft commodities or cryptocurrencies. InvestXE offers a huge library of education and research materials to assist you.
InvestXE has come a very long way since its beginning. It now offers a wealth of account types, tools, and tradable assets that can empower users to invest or trade. InvestXE is your one-stop-shop for all your trading and investing needs.
Accounts At InvestXE
Primary Accounts:
The first and the most basic account type at InvestXE is the Primary Account. This account offers all that you need to trade successfully. Once you sign up for a primary account at InvestXE, you can trade over 16000 assets using their top-of-the-line tools and trading systems. Primary Accounts at InvestXE are available under three tiers: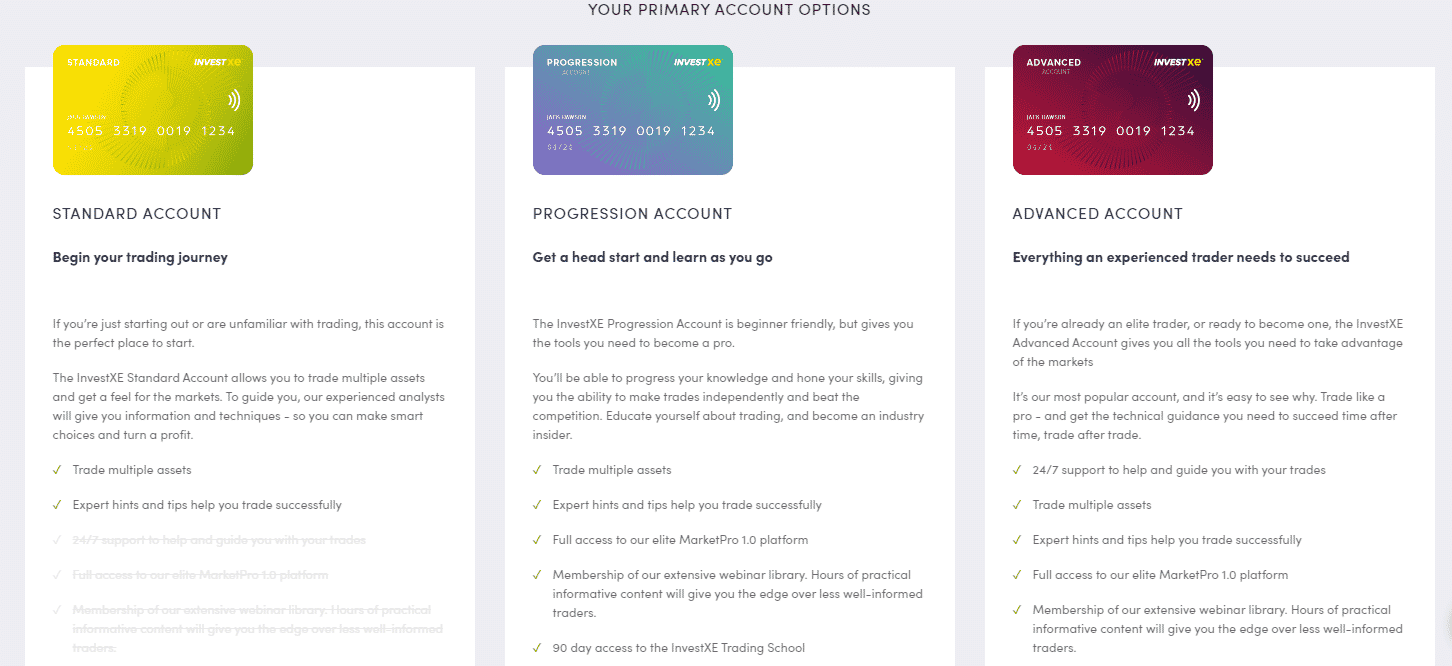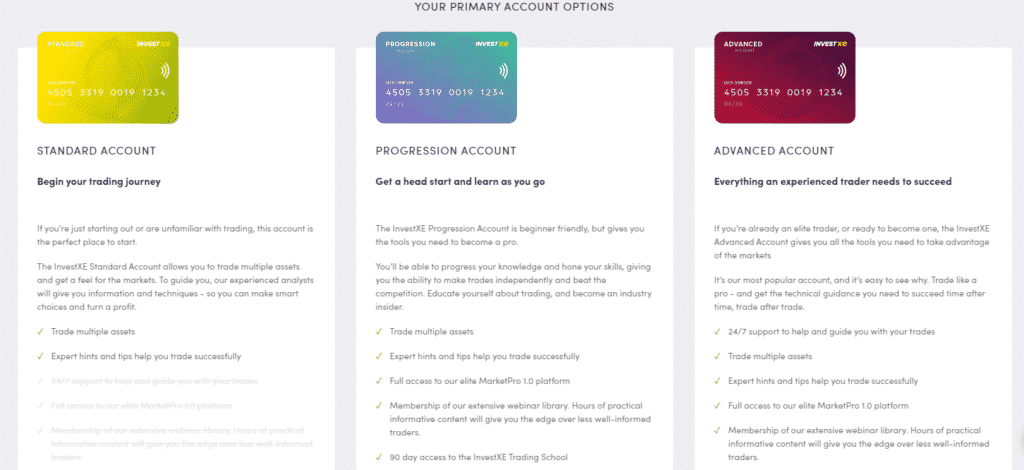 1. Standard Account: If you are starting trading, then sign up for the Standard Account at InvestXE. You can use it by making a minimum deposit of BTC of value equal to $500. With this account, you can trade various assets with the help of seasoned analysts who can guide you on the best techniques and give you information on how to make smart trades.
2. Progression Accounts: Those who want to learn while trading can sign up for the progression account at InvestXE. You can become an industry insider by signing up for this account. It allows you to hone your skills and knowledge and make independent trades. Except for trading multiple assets and offering hints and tips to make successful trades, the Progression Account also gives you access to its MarketPro 1.0 trading platform along with membership to its webinar library and trading school for 90 days. All this is available at minimum funding of BTC equal in value to $5000.
3. Advanced Account: If you are a top trader or wish to become one, then sign up for the Advanced Account at InvestXE. It will offer you all the tools that you need to trade efficiently in any market. It is famous because of obvious reasons. Get the technical guidance and assistance you need by signing up for this account and make successful trades one after the other. Except for all the perks that come with a Progression Account, you will also get 24/7 available support for making trades along with 180 days access to the trading school of InvestXE. You can get all these by depositing BTC of value equal to $25000.
Professional Accounts:
Trading comes with endless opportunities. Professional accounts at InvestXE come with all you need to become a professional trader and make profitable trades. What's more, you will get exclusive insights, personalized coaching, and efficient tools with this account.
1. Gold Account: Want to make big trades? Sign up for Gold Account at InvestXE and get the abilities and tools needed for the same. It gets support from the trading experts and offers many services. All the perks of this account come with a minimum deposit of BTC of value equal to $75000. The main benefits that you get with a Gold Account include access to its MarketPro 1.0 platform, membership to its extensive library, and trading signals delivered to your phone. You also get live review sessions with its analysts to talk trading, personalized sessions, unlimited support 24/7, leverage of up to 300:1, a direct hotline to its war-room, and more.
2. Platinum Account: The Platinum Account is a top-tier account under the Professional Accounts. It offers all that you will require to be a high-class trader, including various resources, sophisticated tools, and personalized support. The other benefits that you get with a Platinum Account include exclusive access to its VIP room and best spreads- lower than 5% with all the advantages that come with a gold account. Everything is available if you sign up for a Platinum Account by depositing BTC of value equal to $150000.
AutoXE Accounts:
If you want to trade easily, sign up for an AutoXE account at InvestXE. You can link this account to your personal brokerage account to run automated strategies in your brokerage accounted. So, even if you are new to the trading world, you can now make profitable trades by signing up for this account.
The analysts at InvestXE will find out the best strategies that are used by the top traders. So, you can choose the ones that you like and then implement them in your brokerage account. Set the parameters you wish to make trades with, and you are then good to go.
Instruments at InvestXE
InvestXE offers every asset class that you would expect from a good online trading broker: Soft commodities, energy commodities, currency options, precious metals, and cryptocurrencies. InvestXE offers an excellent platform for trading all these instruments.
Soft Commodities: There is a high demand for soft commodities always. InvestXE lets you trade many soft commodities like coffee, soybeans, cocoa coffee, sugar, and more. The market for soft commodities is much more stable than others. It opens the doors to make profitable trades. InvestXE offers many strategies and tips for you so that you can benefit from this market.
Energy Commodities: Both renewables and non-renewables make energy commodities. Renewables include wind, geothermal, and solar, while non-renewables include oil, coal, and gas. The trading platform of InvestXE offers all that you need to involve yourself in this money-making market. It supports many trading options with exceptional customer services and modern risk management tools. Besides that, the experts at InvestXE are on standby always to offer the help you need.
Currency Options: The Currency Options market is also known as the foreign exchange currency market. It offers infinite possibilities to make profitable trades, and thus, a large number of people have become millionaires by trading in this market. InvestXE gives you the education and tips needed to make winning trades. With InvestXE, you can trade-in currency options 24/7, get competitive prices across many currencies, get 24/7 chat support, access them using any device, do real-time market analysis, and more.
Precious Metals: Precious metals are a well-liked trading option for most people for decades. Since their value keeps on increasing, people can make reliable and profitable trades. Precious metals provide an ideal opportunity to diversify a portfolio. At InvestXE, people can trade silver, platinum, gold, and palladium.
Cryptocurrencies: Enter the world of cryptocurrencies and start making big bucks with InvestXE. The crypto trading strategies of InvestXE are mainly beneficial for the new traders as the platform maintains pricing fluctuation prediction and accuracy in its volatility. Whether or not you own cryptos, you can do cryptocurrency trading with InvestXE.
Education At InvestXE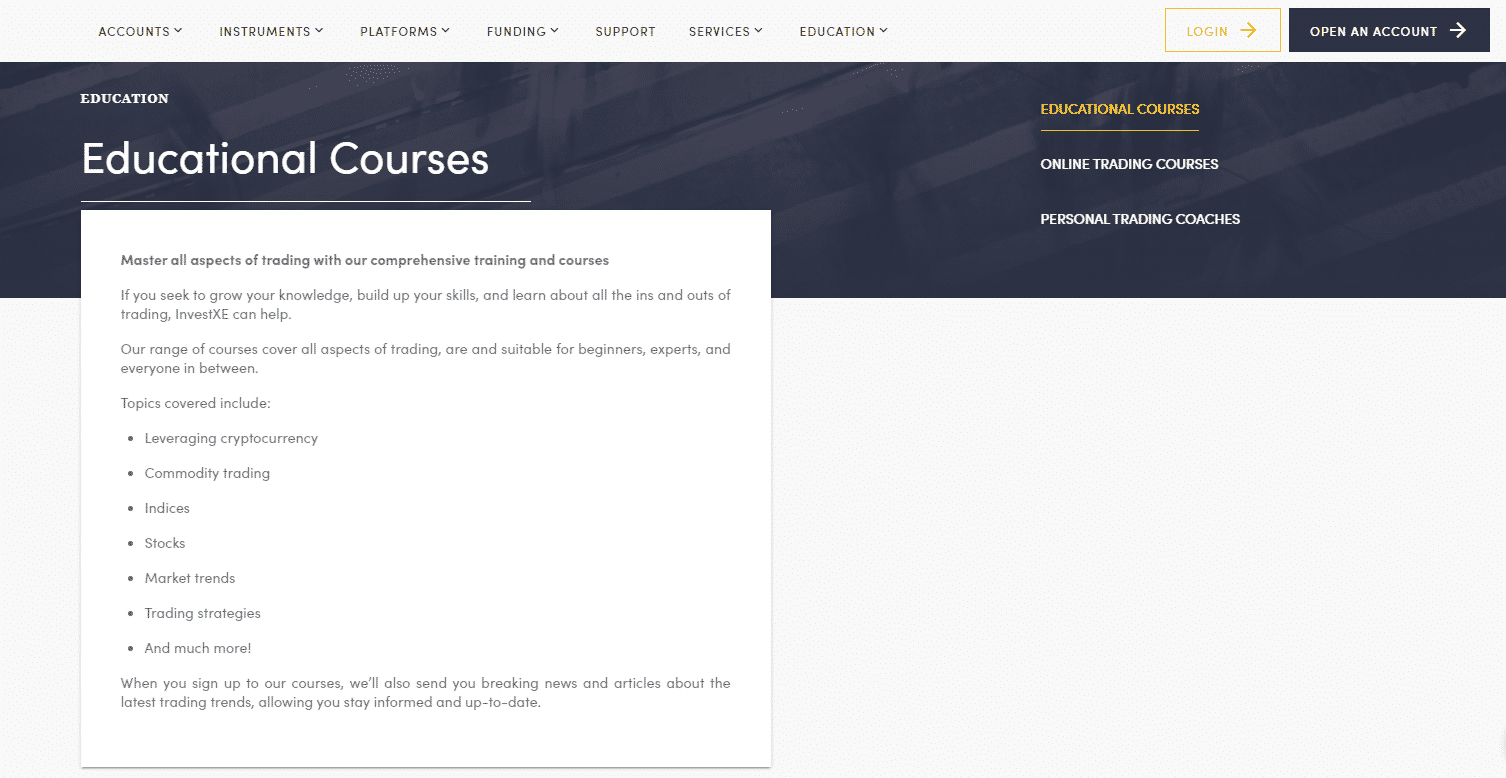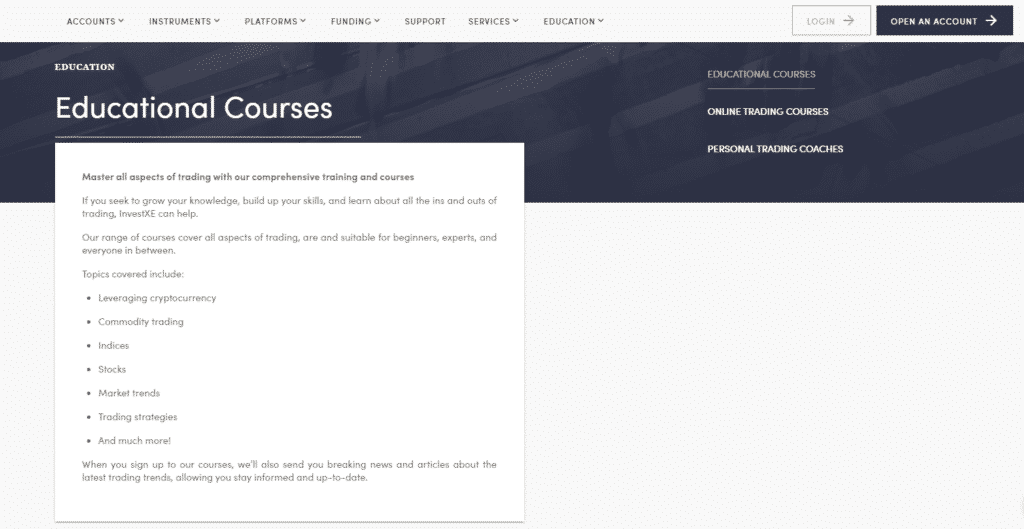 InvestXE offers three main avenues for delivering the clients education not only to enhance their trading and investing acumen but also to understand the markets better. InvestXE will quickly walk you via the trading process on their platform.
Education Courses: You can now master the trading industry by choosing to go for InvestXE trading courses. If you want to increase your knowledge and learn everything about trading, then InvestXE can assist you. These courses include many topics like stocks, indices, trading strategies, commodity trading, and a lot more.
Online Trading courses: If you are looking for a quick way to learn trading to take a focused approach and offer you the information that you need about any specific facet of trading. You can take up these courses in any order you want and at your speed. They can help you with the best trading strategies when it comes to cryptos, indices, currency options, and more. Their impactful webinars are also quite helpful and hosted by industry veterans and professional analysts.
Personal Trading Coaches: The personal trading coaches of InvestXE can make you learn new skills with a personal touch. Their individualized mentorship can quickly improve your trading knowledge and skills. You get a chance to ask questions, learn from their years of experience, and also request help whenever needed. By having an industry expert at your end, you can rest assured to make profitable trades.
Trading Platforms At InvestXE
InvestXE offers five different platforms with different functions and features. You can choose one according to your trading skills and preference.
MarketPro 1.0: The real standout at InvestXE is its flagship platform, MarketPro 1.0. It is ideal for traders and investors looking for advanced trading analysis that can also help source ideas. It lets you trade all the instruments and assets available at InvestXE competently. Once you create an account with InvestXE, you can use MarketPro 1.0 on any device via your browser.
Web Trader: The Web Trader platform of InvestXE is best for those who are new to trading and are just starting with it but wish to manage their portfolio themselves. For the new trader who needs a refresher, Web Trader also offers access to the latest market trends, live prices, and market data to help them on their trading journey. You can also view historical data related to trading and use its efficient risk management options and tools to make the best trades.
Android Trading App: The standard Android Trading app of InvestXE is a terrific platform with easily accessible features and an excellent learning curve. If you are an advanced trader, the app brings advanced tools and superior analysis to your small screen.
iPhone Trading App: Available for all iOS devices, the iPhone trading app offers technical studies and interactive charts. You will also get an intuitive interface optimized for the small screen that offers multiple trading options and full functionalities.
Tablet Trading App: Make trades and investments at your convenience, seeing all the details that you need for making the best possible trades. You can get live prices, access the current market data, and track the latest trends related to investing and trading. It gives you all the required functionalities to make lucrative trades.
Services at InvestXE
Dedicated Sales Traders: It is generally hard for anyone to begin trading in a new trading market. It is where a sales trader at InvestXE can help you. He/she can do all the complex and difficult stuff for you, like sales, funding, admin, etc. They have years of experience with a record of high success. With their help, you can get quick results without doing too much hard work and taking stress.
Personal Trading Courses: If you want to know more about the different trading markets, you can take up an InvestXE trading course. By taking up one such course, you can get the knowledge needed to become an industry veteran. Get insights into the working of different markets and understand the complexities of trading in a better way.
Personal Relationship Managers: Trading is a complicated and confusing affair for many people. If you are one of them, you can enlist the help of experts at InvestXE to hone your trading skills. The services of a personal relationship manager at InvestXE can help you move through the technical jargon and keep you away from the industry's common traps. You can stay in continuous communication with them via email, phone, or chat. You can also arrange a personal meeting with them.
In-House Analysts: Make the in-house analysts at InvestXE your trading success partner. They can make your trading journey simple and faster. You can get insightful advice from them, avoid falling into the traps that even experienced traders sometimes fall into, and learn secrets from the industry's top insiders.
Customer Support At InvestXE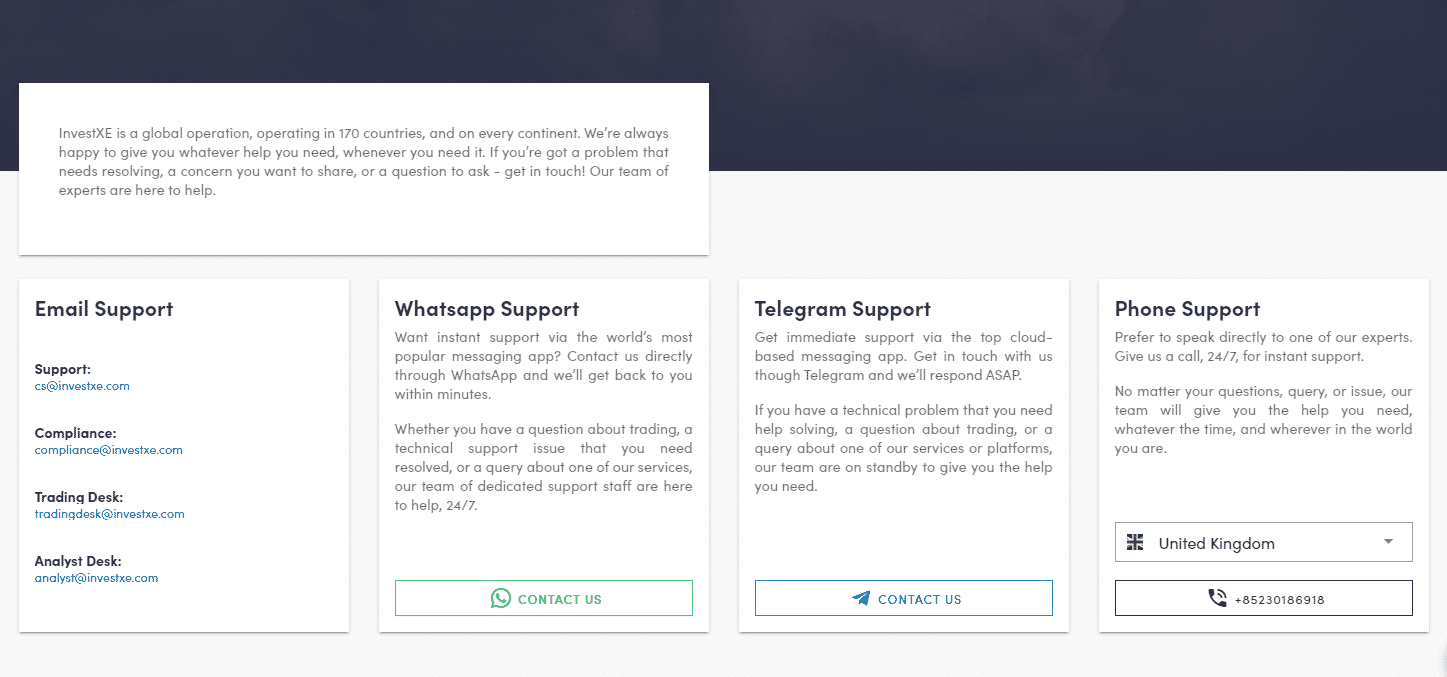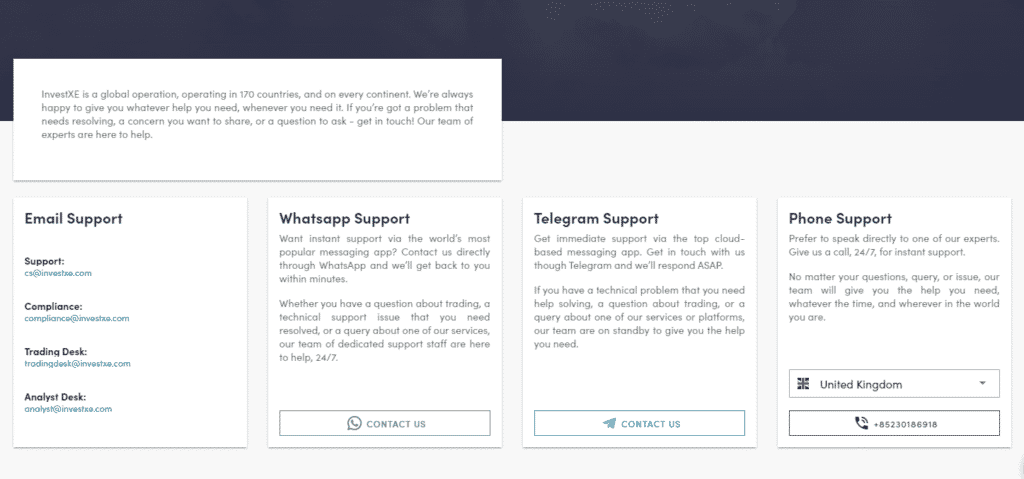 InvestXE offers 24/7 available customer support that can be easily reached from many different avenues – phone, email, WhatsApp, or Telegram. InvestXE support is available in 170 countries around the world.
Email Support: InvestXE makes its customer support available for all its users through email. Its email addresses are as below:
Compliance: compliance@investxe.com
Support: cs@investxe.com
Analyst Desk: analyst@investxe.com
Trading Desk: trading desk@investxe.com
Phone Support: You can speak with one of their representatives directly via phone when you want. Regardless of your query or question, its team is always available via phone to help you.
WhatsApp Support: Are you looking for instant support from InvestXE? Its WhatsApp support is the best option for you. Their dedicated support is there to help 24/7 no matter what questions or queries about their services or platforms you have.
Telegram Support: You can also get in touch with customer support agents through Telegram. Whether you have any questions about trading or a technical problem, the customer care agents of InvestXE available via Telegram can solve them.
Bottom Line
InvestXE offers the best trading options and facilities for more experienced traders and novice traders, including five trading platforms, a separate educational section, and incredible customer support. InvestXE different account types make it a solid choice for all traders and investors.
InvestXE has upgraded its name and reputation from an unpredictable startup to a powerhouse trading platform with technologies and tools. Regardless of which platform you choose to trade with InvestXE, trading is possible on the go with different InvestXE platform and always available customer service. InvestXE is all grown up now.
FAQs
1. For Whom Is The AutoXE Account Best For?
Ans. The AutoXE account at InvestXE is best for both beginners and novice traders. Anyone can make automated trades using this account. Link your AutoXE account with your brokerage account to start trading with it.
2. How Many Assets Can I Trade with InvestXE?
Ans. InvestXE lets you trade more than 16000 assets divided under five tradable instruments.
3. What Are the Main Services Offered by InvestXE?
Ans. The services offered by InvestXE include trading and investing with those of personal relationship managers, in-house analysts, personal trading courses, and dedicated sales traders.